Key Control
For more information on ordering, please visit our Ordering page.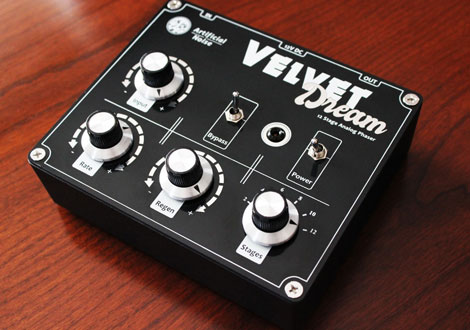 Velvet Dream
12 Stage, 100% Analog Desktop Phaser
Velvet Dream is the newest desktop effects unit from Artificial Noise, designed with synthesists and producers in mind. Velvet Dream is a 12 stage analog phase shifter with selectable phases - pick either 2, 4, 6, 8, 10 or 12 stages. Each stage has its own character - go from "Classic" 4 stage phaser swoosh to 12 stages of velvety heaven.
The Regen control (AKA. Regeneration/Feedback/Resonance) allows you to go from just a subtle shifting, to all the way into swirling psychedelic dreamscape.
100% Analog with a true bypass switch. Hear the warmth of this vintage style phaser as it sweeps via its wide range LFO. From fast and warbly to a slow, glacial sweep.
Compact but tough aluminum enclosure. Ships with 12v power supply (region specific).
---
$269 USD + Shipping.
Purchase Via PayPal
Thanks to everyone who ordered! The first batch is now done, if you would like to be put on the list for the next batch please Contact Us.
Units will ship in 3-6 weeks. Units ship in the order the purchases were made, so purchase early for your place in line near the front!
---
---