Mini-Pre
For more information on ordering, please visit our Ordering page.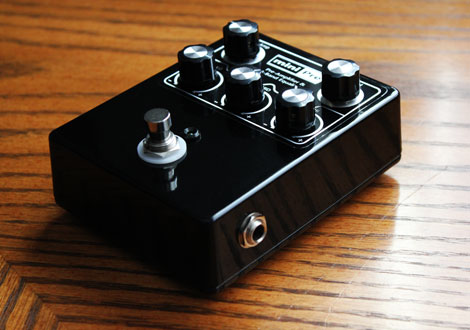 Mini-Pre
Pre-amplifier and 3 Band EQ.
It may be called "Mini" but that's not how it sounds!
The name comes from it's circuit design which is based on "Pre-Amp" circuit of the original Minimoog synthesizer, along with a classic 3-band Equalizer makes for a warm, woolly and thick sound. The Mini-Pre is 100% analog, with the preamp portion a vintage-style transistor based design and the EQ is a clean Brown-Burr opamp design that can cut or boost approximately 15 dbs in each of the 3 bands:
HI - wide band 4kHz and up
MID - Narrower around 600Hz
LO - wide band 100Hz and down
The Preamp can go from soft warmth to full on Fuzz and sounds great taking line-level instruments or hi-z ones like guitar. Switch is true-bypass.
Controls include:
Pre-Amp: Controls the gain, from soft warmth to overdriving fuzz tones.
Vol: The output volume.
LO: Controls the Bass frequency cut/boost.
MID: Controls the Mid frequency cut/boost
HI: Controls the High frequency cut/boost
Each Mini-Pre is hand numbered and made in limited, small batches from our shop in Winnipeg Canada.
The Mini-Pre runs on 9v DC power supply which is included in the price.
---
$175 USD + Shipping
Purchase Via PayPal
The first batch is all done, thanks to everyone who ordered!
---