LAB:1
For more information on ordering, please visit our Ordering page.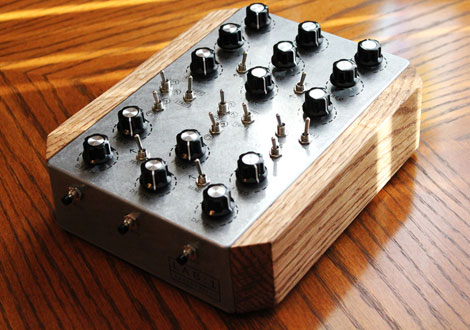 LAB:1 Synthesizer
100% Analog 6 Oscillator Experimental Synthesizer
3 Audio Oscillators with Triangle, Sawtooth and Square waveforms
3 Low Frequency Oscillators with Triangle and Square waveforms
Voltage Controlled Low Pass Filter
Switches to X-Mod Oscillator One with Oscillator Two, and X-Mod Oscillator Two with Oscillator Three
Switches to Modulate LFO One with LFO Two, and Modulate LFO Two with LFO Three
Audio Oscillators can be free running or can be triggered via Buttons on the front of the unit.
Level/Depth and Frequency Pots for each Oscillator
Solid Oak End caps and metal case.
Designed to sound thick and raw with little regard for stability and "clean" waveforms, expect to explore strange audio territories with the LAB:1.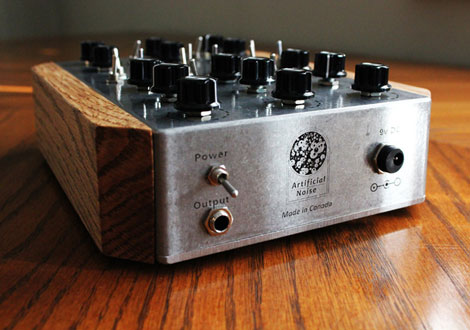 Powerful modulating drones to melodic rhythm sequences to spacey sound effects to total audio chaos.
Easy to use with with all controls available at once but hard to restrain by nature, the LAB:1 is for those who welcome the unexpected.
The low pass filter is an interesting one. When the resonance is cranked to max, it's designed to drive the filter hard, causing a nice fuzzy saturation, it can also be used as a sort of high pass filter to create some unique formant like sounds.
Works great as a stand alone composition tool or used to generate new sounds for a sampler.